Fallschirmjäger Oberleutnant Horst Trebes
October 22, 1916 - July 29, 1944

The strange history of his life...


Oberleutnant Horst Trebes (pronounced Tray-bes) was a central figure in the Kondomari massacre. The events of his life following Kondomari are very interesting.
Horst Trebes was born in Köln (Cologne) on 22 October 1916. He joined the Wehrmacht as an Officer candidate 1 April, 1936 and was promoted to Leutnant on 20 April 1938. In 20 June 1938 he volunteered for the new Army Fallschirmjäger Batallion under the command of Major Richard Heidrich. Army Fallschirmjäger were incorporated into the Luftwaffe on 1 April 1939 as a part of the III Battalion, 1st Fallschirmjäger Regiment (III FJR/1).
Trebes saw action in both the Polish and Holland campaigns earning the Iron Cross Second Class in Poland and the Iron Cross First Class in Holland. In 1941 during the invasion of Crete he served as a staff officer under the 1st Stürm Regiment.
In Crete a kampfgruppe was formed from the regimental staff consisting of Oberleutnant Trebes, Oberleutnant Schächter and Major Baum. The kampfgruppe landed near the bridge over the Travotinis river in nine gliders to the West of Malemes. The mission was to capture the bridge and then capture the Flak gun position on the west of the Malemes airfield.
On May 20 Oberleutnant Trebes attacked relieving Leutnant Kalhey's platoon which had been surrounded. During this attack Major Baun was killed and Oberleutnant Schächter was wounded. Trebes assumed command of the kampfgruppe. The next action was on May 23 west of Palantias when the kampfgruppe captured hill 107. Ostensibly it was for this action Trebes was awarded the Knights Cross, though the date of the award is listed as 9 July 1941.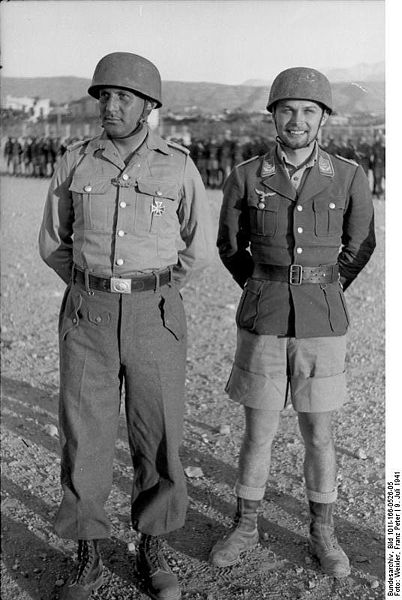 Oberleutnant Horst Trebes at the awarding ceremony on Crete, 1941.

Photo dated 19 July 1941.
On 2 June 1941 Oberleutnant Trebes drove with four trucks filled with Fallschirmjäger to the village of Kondomari where more than 100 civilians were rounded up and executed. Oberleutnant Trebes commanded this terrible reprisal action.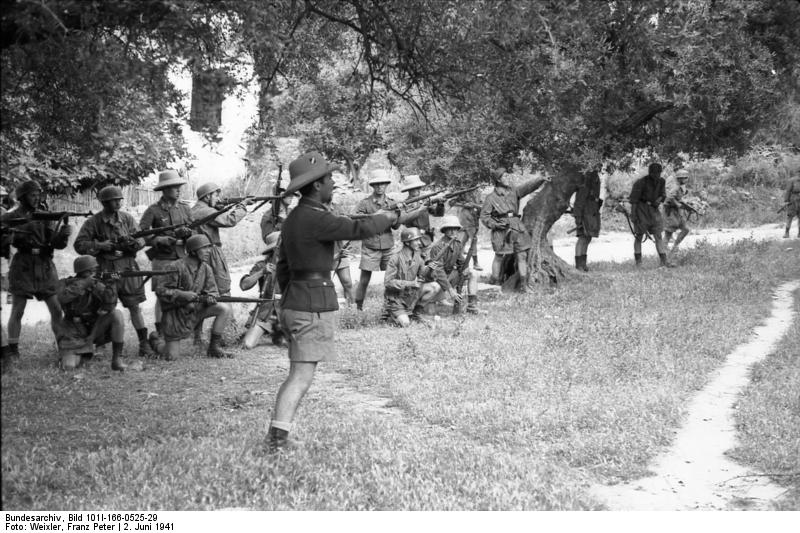 Oberleutnant Horst Trebes commanding the firing squad in Kondomari.

Photo dated 12 June 1941.
A month after the massacre in Kondomari Trebes was awarded the Knights Cross. He returned to Germany where at a drunken celebration in Halberstadt with a group of Fallschirmjäger. The party ended tragically; Oberjäger Karl Polzin; a member of the famous Fallschirmjäger Trupp 4 which had captured Fort Eben Emael was carelessly shot and killed by Trebes.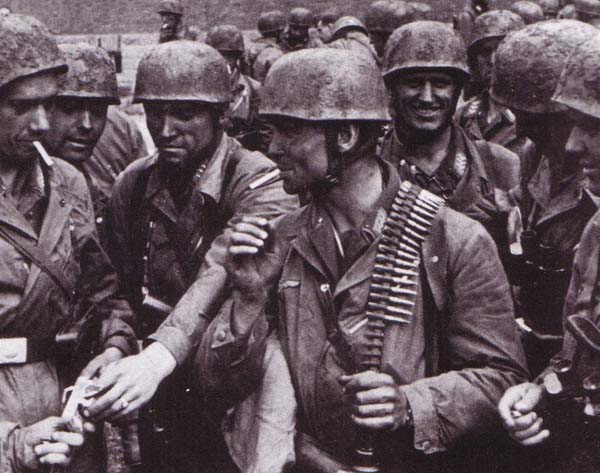 Oberjäger Karl Polzin in the middle with cigarette, after the capture of Eban Emael.

As the party wound down Oberjäger Polzin was drunk and sleeping in the bathroom, Trebes insisted on awakening Polzin by shooting his pistol! The ricocheting round killed Polzin. Rumour has it that Polzin had been ragging Trebes about his 'heroic deeds' in Crete that had won him the Knights Cross during the evenings drinking; alluding to Trebes reprisal action.
Trebes was spared the death penalty probably due to his stature as a Knight's Cross winner as well as his mother-in-law's direct appeal to Reichsmarschall Göring. (She had worked as a nurse in 1917 and met Göring when he was a young fighter pilot in military hospital after being shot down.) Trebes was stripped of his commission as well as every award including the Knight's Cross.
Now demoted to simple enlisted Jäger, Trebes was sent to Africa. (Many sources say the he lost his right arm, however many photos after this time show him with both arms). He earned a reputation as a daringly reckless and emotionally shattered man by tempting fate every chance he got. Though winning praise for his bravery and action. Eventually he regained his commission and fought in Russia as commander III/LL Stürm Regiment. In early spring of 1944 he was transferred to Normandy to command III/FJR6 at the request of Major Friedrich August Freiherr von der Heydte who was in desperate need of seasoned commanders.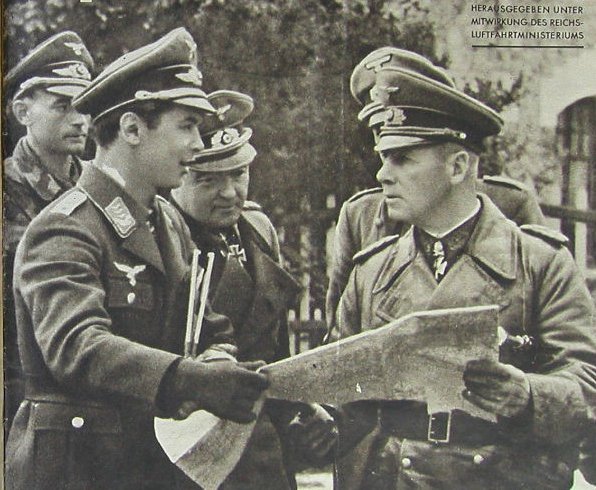 Oberleutnant Helmuth Walter, Hauptmann Horst Trebes, Generalleutnant Wilhelm Falley, Field Marshall Rommel.

Photo from Der Adler, 1944.
Hauptmann Host Trebes was KIA near Carentan, South of Saint-Denis-le-Gast on 29 July 1944 during the fighting in the hedgerows and break out of the Allied armies through Saint-Lo.



Important Disclaimer! - This is a non-political web page dealing with the history, equipment, life and campaigns of the World War II German airborne soldier (Fallschirmjäger) and World War II reenacting. This website is contains historical information as well as reenacting and living history information. This information includes reenactment photos, historical information covering operations, equipment and photos of World War II Fallschirmjäger in action. The information is catalogued and presented to preserve a clear eyed view of military history and present to the public an accurate representation of a World War II German airborne unit. We do not tolerate or condone any form of racism, radical or extremist activities, or persons with supremacist, fascist or racist political motives or beliefs and we do not support nor glorify the reprehensible policies of the Nazi Party. We do not tolerate, support, or condone any activities of any neo-nazi party organizations, any extremist, anti-immigrant or anti-semetic organizations.


Question? Feldpost der feldwebel.


Back