Specialty Motorcycle Photos




The WWII German military used motorcycles in many different ways. Here we attempt to display all of the myriad uses that motorcycles were put to use.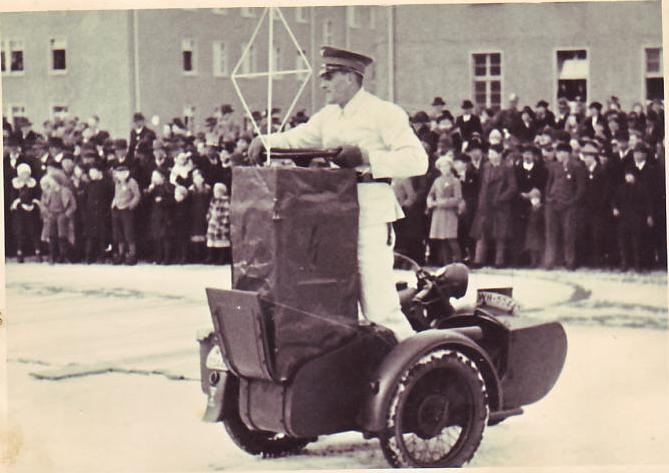 Radio direction finding from the sidecar.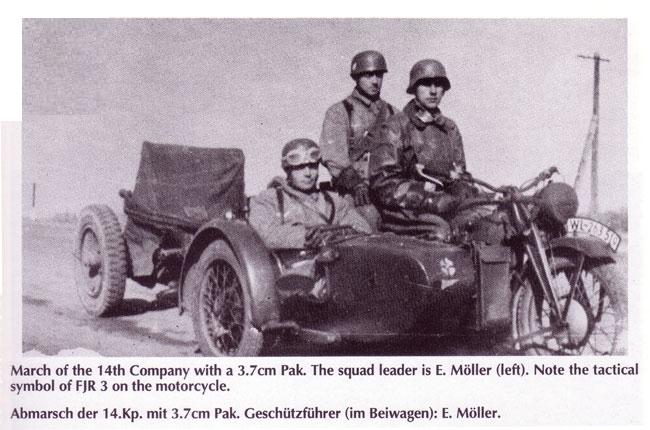 Towing; motorcycles were equipped and used for towing. Here Fallshcirmjager tow a PaK37.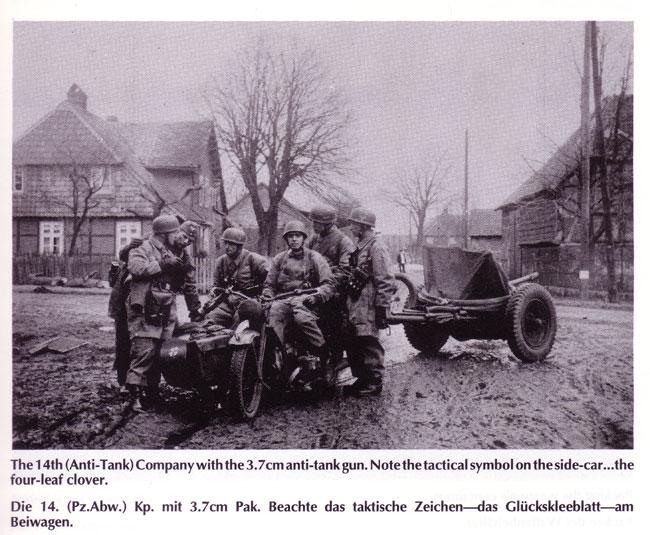 Another photo showing the PaK37 in tow.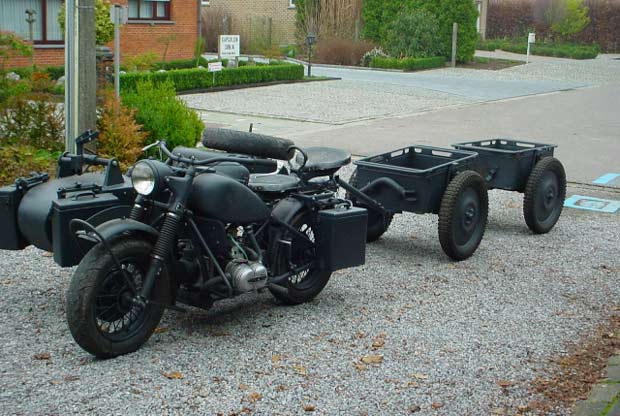 BMW R-75 with two ammunitions carts in tow.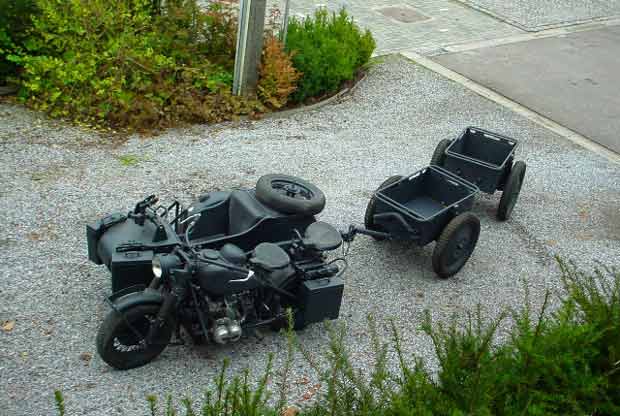 Another of the same train.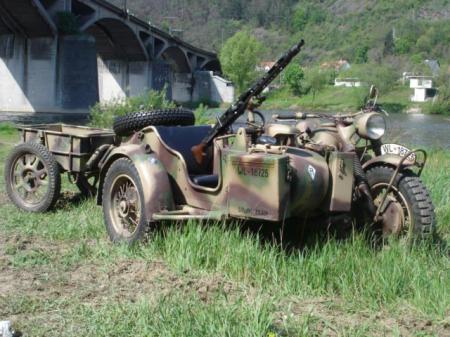 Modern photo of a vintage R-75 with a machine gun mount with MG-42 and towing an ammunition cart. Motorcycles were fitted with two types of MG mounts; the more prevalent crossbar and a pedestal mount.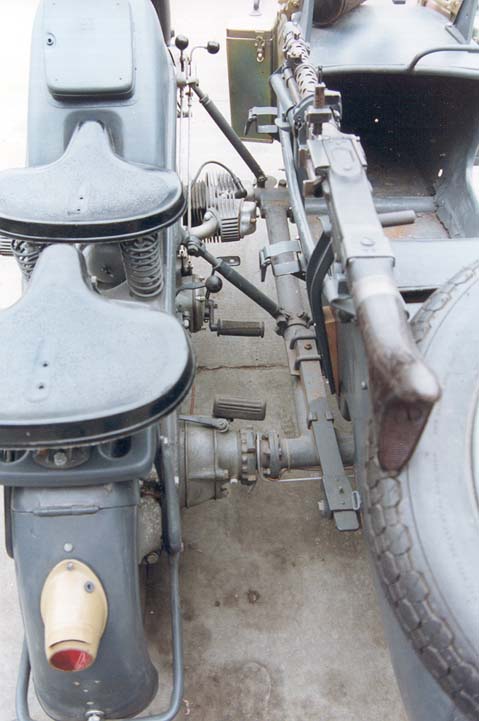 A photo of a Zundapp with the crossbar MG mount and an MG storage rack with MG-34 stored on it.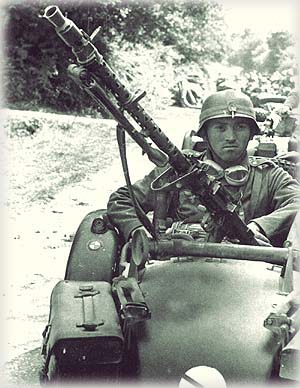 Another photo of sidecar with MG mount.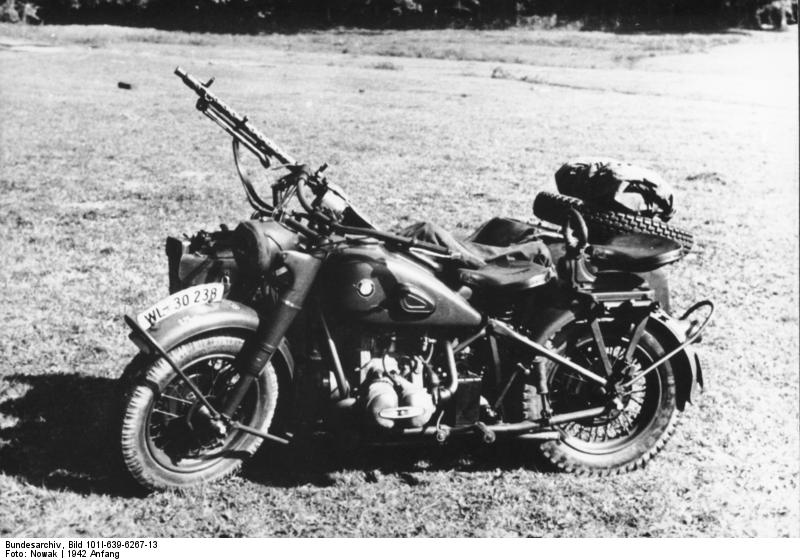 Bundesarchiv photo of BMW R-75 with sidecar and MG-34 mounted.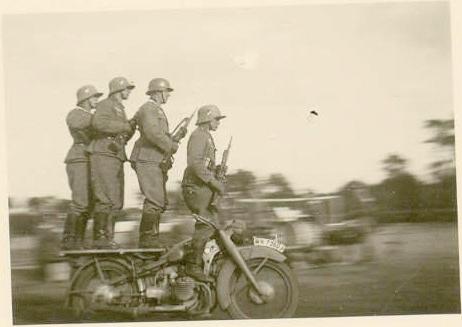 Not all is seriousness, some trick riding of the period. If they keep it up the driver will have some hot feet!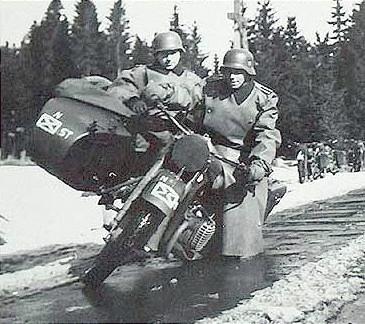 It's pretty easy to do this with the sidecar empty, but with a rider... my hat's off to this motorcyclist.



Important Disclaimer! - This is a non-political web page dealing with the history, equipment, life and campaigns of the World War II German airborne soldier (Fallschirmjäger) and World War II reenacting. This website is contains historical information as well as reenacting and living history information. This information includes reenactment photos, historical information covering operations, equipment and photos of World War II Fallschirmjäger in action. The information is catalogued and presented to preserve a clear eyed view of military history and present to the public an accurate representation of a World War II German airborne unit. We do not tolerate or condone any form of racism, radical or extremist activities, or persons with supremacist, fascist or racist political motives or beliefs and we do not support nor glorify the reprehensible policies of the Nazi Party. We do not tolerate, support, or condone any activities of any neo-nazi party organizations, any extremist, anti-immigrant or anti-semetic organizations.