BMW R-71 Technical
Specifications and Technical Details



During WWII Germany deployed highly mobile motorized troops. The BMW R-71, R-75 and its competitor; the Zündapp KS 750 widely used by the Wehrmacht, Luftwaffe and SS in large numbers. Here I'll collect all the technical and maintenance information on the R-71 (also applicable to the CJ-750).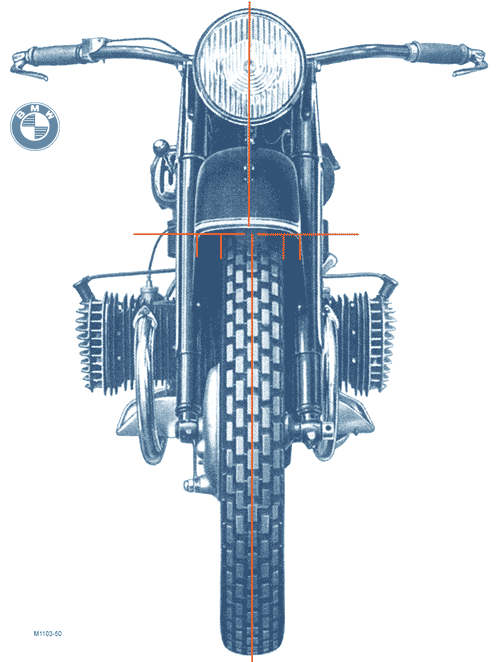 Years of production
1938 - 1941
Ratios
1st: 3.6:1, 2nd: 2.29:1, 3rd: 1.71:1, 4th: 1.3:1 (1 : 3.89 with sidecar)
Total production
3458 units
Length
2130 mm / 83.85 in
Engine
4-stroke boxer twin
Width
815 mm / 32.08 in
Capacity
746cc flathead sidevalve
Height
960 mm / 37.79 in
Horsepower
22 hp @ 4600rpm
Wheelbase
1400 mm / 55.11 in
Bore/Stroke
78 x 78 mm / 3.07 x 3.07 in
Track
42 in / 1066 mm
Compression ratio
5.5:1
Ground clearance
4.7 in / 120 mm
Carburettor
Graetzin G24, .1 main jet
Gross weight
794 Lbs / 360 kg
Clutch
dry single plate
Capacity
3 adults & 220 pounds / 100 kg
Final drive
shaft
Maximum speed
94 kph / 58 mph (with sidecar)
Electrical system
12 volt
Tires
3.5 x 19 inches
Generator
Bosch RD 50/6 2800 RS 17
Fuel capacity
14 ltr / 3.07 gal Imp / 3.69 gal US
Spark Plugs
Bosch W 175 T1
Fuel ecomomy
33 mpg / 4.5 Ltr/100km
Gearbox
4 speed + reverse
Price
1595 RM (Reichmarks) ~3970 US




Links for the BMW R-71



Important Disclaimer! - This is a non-political web page dealing with the history, equipment, life and campaigns of the World War II German airborne soldier (Fallschirmjäger) and World War II reenacting. This website is contains historical information as well as reenacting and living history information. This information includes reenactment photos, historical information covering operations, equipment and photos of World War II Fallschirmjäger in action. The information is catalogued and presented to preserve a clear eyed view of military history and present to the public an accurate representation of a World War II German airborne unit. We do not tolerate or condone any form of racism, radical or extremist activities, or persons with supremacist, fascist or racist political motives or beliefs and we do not support nor glorify the reprehensible policies of the Nazi Party. We do not tolerate, support, or condone any activities of any neo-nazi party organizations, any extremist, anti-immigrant or anti-semetic organizations.

Question? Feldpost der feldwebel.
Back to Home